OpenMIDIProject
Home | News | Forums | Documentations | FAQ | Links | Contributors | Author
---
MIDI keyboard and controller software "MIDITester"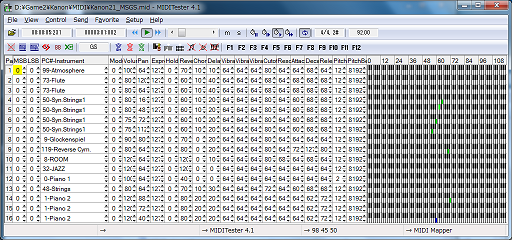 "MIDITester" is free, open source MIDI keyboard and controller software. This program enables you to tinker with your MIDI module or synthesizer's parameters and test the sound. It can be used as a MIDI playing monitor, too.
48 tone select switches.
272 assignable controllers (Assignable arbitrary CC, RPN and NRPN).
16 pitch bend knobs.
1920-keys keyboard (Playable).
12 assignable button. (Assignable arbitrary MIDI Message).
All cells may be operated by using both mouse and PC-keyboard.
Sekaiju sequence file(*.skj) import support.
Cherry sequence file(*.chy) import support.
Standard MIDI File(*.mid) import support.
MIDICSV File(*.csv) import support.
It displays values and keyboards in real time with the performance of MIDI data.
Auto repeat from CC#111 position, which is used as a repeat marker in "RPGツクール" software.
Intelligent playback which prevents garbled sound wherever position you started.
Each part may be muted or soloed.
GM, GS, XG, and GM2 support, and it can be send system-exclusive message like reverb, chorus, delay, EQ and others.
Instrument definitions are compatible with Cakewalk's instrument definition file(*.ins)
Only extracting zip file is required to execute. No need to install.
User interface and docoumentations are Japanese, English, and Chinese compliant.
User interface is Windows XP / Vista / 7 / 8.1's theme compliant.
YAMAHA XF / SMF with Lyrics (RP-026) compliant.
Unicode compliant.
Please note:
MIDITester is made in Japan, therefore default GUI language is Japanese. Here shows two way to change to English.
(a) Select "Setup" - "Language" from the menu and select "English" in the language dialog, and restart MIDITester. If the menu gets character corruption, press [Alt]+[S] and then [Alt]+[L], and you'll open the dialog.
(b) Open "MIDITester.ini" in your text editor, change "UserInterface=Japanese" to "UserInterface=English", and then save it, and then execute MIDITester.exe
---
(C)2000-2023 kuzu All rights reserved.